Update comments
Obviously, yesterday's update was an April Fools' Day joke - but the actual Gen VII Zodiac is now up! This time around, every non-legendary final evolution gets its own day, which works out perfectly, because Game Freak loves me. As always, you can generate an image for your birthday: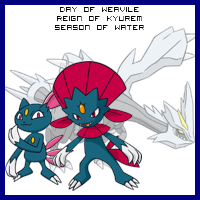 There is also a writeup for yesterday's joke on the April Fools' Day joke archive page. If the Alolan Zodiac amused you, it is still available and functional here, images and all.
Post comment
Rude, offensive or otherwise inappropriate messages, including drama, controversy or other topics that might make others uncomfortable, will be deleted on sight. Repeat troublemakers will be banned altogether. Please keep any websites entered into the website field reasonably family-friendly. You can use BBCode (forum code) to format your messages.
[b]Bold[/b]
[i]Italic[/i]
[u]

Underlined

[/u]
[s]

Strikethrough

[/s]
[url=http://www.dragonflycave.com]Link[/url]
[spoiler]

Spoiler

[/spoiler]
Comments
No comments on this update as of yet. Post one?
Page last modified April 17 2018 at 22:56 GMT