Newest Updates
The Day of Cacturne in the Reign of Tapu Bulu, Season of the Earth: Actual Gen VII Zodiac
Obviously, yesterday's update was an April Fools' Day joke - but the actual Gen VII Zodiac is now up! This time around, every non-legendary final evolution gets its own day, which works out perfectly, because Game Freak loves me. As always, you can generate an image for your birthday: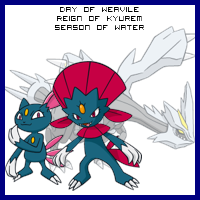 There is also a writeup for yesterday's joke on the April Fools' Day joke archive page. If the Alolan Zodiac amused you, it is still available and functional here, images and all.
View guestbook | Sign guestbook
The Almighty Random Poll
Pokémon Go, the augmented-reality mobile game where you look for Pokémon in the real world, has taken the world by storm - but are you playing it?

The Site Poll
Let's do this again. Given these are things I want to do, which of them should I do first?

Page last modified April 2 2017 at 00:51 GMT