About Me
Hello. My name is Butterfree, Dragonfree or antialiasis; I'm female, Icelandic, twenty-three years old, have been running this website since I was twelve, and have no plans of stopping.
If you desperately want to know my real name, it is Hlín; it rhymes with "spleen" and is the name of a protector goddess in Norse mythology, as well as an alternate name for another unrelated goddess in Norse mythology. (If you think that's weird, Norse mythology also holds that a male god became pregnant with an eight-legged foal after seducing a horse.) Please don't call me Hlín online, however; I like my name just fine, but when I'm reading English, my brain is firmly in my-name-is-Butterfree mode, so being suddenly addressed by my real name just feels jarring and overly-intimate rather than friendly. (I really mean that: it weirds me out. If you want to make the conversation casual and personable, calling me Hlín is not the way to do it.)
I was born and raised in Iceland by Icelandic parents, so yes, my native language is Icelandic, and I only learned English from a combination of school (where we're required to study it from fifth grade or so), video games, Harry Potter and the Internet, in roughly that chronological order. I first got into Pokémon when I was ten, and I still have memories of my bizarrely wrong attempts to guess what words in Pokémon Yellow meant from the context; I was somewhat better two years later when I started this website, but not by much. I consider myself pretty fluent by now, but then again it would be worrying if I weren't, after more than a decade of spending way too much time reading and writing English online.
In Real Life
Well, I'm pretty thin, I have long hair that I still stubbornly insist on calling blonde even though it's been getting brown over the years, and my eyes are blue. I wear glasses, get freckles, and have a really ridiculous smile that makes me look like a crazed axe-murderer if you have the misfortune of photographing me while I'm smiling. I have a boyfriend of six years and counting whom I call Shadey in English (it's a silly story), and currently I mostly live at his place.
I have a B.Sc. degree in computer science from the University of Iceland, and currently I'm employed as a programmer for a small startup, working mostly in Python. (If you want to get into programming, by the way, Python is a wonderful language.) I may go for a Master's or Ph.D. at some point, but there's plenty of demand for programmers without higher degrees, and right now just working in a field that I love and saving up money for a while is a nice change of pace from all those years of education.
I travel to England twice a year to attend the MCM London Expo with several of my Britain-based friends; if you're going and would like to meet, chat or whatever, that can be arranged.
Hobbies and Interests (Plus Rambling About Fiction)
Although I enjoy programming and I imagine I will always be doing that as my main source of income, my dream job is technically to be a writer, and I've been writing stories - mostly fantasy - since I was little. I always used to have a lot of trouble finishing anything I wrote, though - or, if I finished it, it would be because it went straight from the character introductions to the climax of the story and what I intended as a sprawling epic ended up being about four pages long. Then that all changed when I started The Quest for the Legends, through some combination of having readers urging me on and the fact the trainer fic skeleton forced me to have a bunch of things happening between the introduction and the climax. Today most of my writing is still in the form of Pokémon fanfiction; I've also written some original short stories and have ideas for longer original works churning away in my brain, waiting for a time when I might get around to writing them out.
Aside from writing and computer science, I have areas of interest within a wide variety of academic fields. I'm fascinated by psychology, ethics, genetics and evolutionary biology, number theory, cryptography, complex numbers, astronomy, quantum physics, and more. I'm not an expert in any of these fields by any means, but I'll generally gobble up anything I can read about them and am always thrilled to improve my understanding. I also tend to find just about anything interesting when it is explained by someone who is sufficiently enthusiastic about it and is able to get across their own enthusiasm; people who are obviously doing what they love make me happy.
Probably my biggest passion in life, however, is fiction. This is because to me, fiction is a reflection of everything that's most interesting about humanity. I love the subtleties of how fiction manages to make you care about imaginary characters, or even imagine that they have their own life and motivations; I love how narratives can delicately build up tension and fear and emotion around events that aren't real and that we know aren't real; and I love how we can enter entire imaginary worlds violating multiple laws of physics and accept them, while still crying foul if the characters are unbelievable. Thus, even aside from writing it, I'm an avid consumer of fiction of various genres in various media, with a particular interest in analyzing characters and their motivations. This may be somewhat evident from my movie reviews.
Because I view fiction through that particular lens, I'm always a bit irritated by the suggestion that the purpose of fiction is to comment on reality through some kind of metaphor, and that fiction is therefore split into intellectual social commentary and mindless fluff. Science fiction and fantasy are sometimes 'defended' as genres on the basis that they can hold up a mirror to society, but my instinctual reaction to that argument is that I don't actually want them to; fiction generally becomes far less interesting to me when analyzed in the context of the outside world, instead of the internal context of the story itself. At the same time, I'm also annoyed by the opposing stance that science fiction and fantasy (or even fiction as a whole) are about escapism, even if this is presented as a good thing - as if the only reason anyone would be interested in fantasy fiction is if they have a miserable real life and just need to get away from it by any means possible. Don't get me wrong; if you do happen to be miserable in real life and find that fiction helps you cope, that's wonderful (though fiction can't outright replace interacting with real people and real situations and if your problems aren't inherently temporary it's not going to solve them), but that's not remotely why I love fiction in general or fantasy/science fiction in particular, and I resent the assumption that it is or must be for most people.
Personality
I'm generally a very positive-minded person: I consider myself pretty fortunate, I generally enjoy life, my default state is happy, I firmly think people are generally good, and there are a lot more things I love than things I dislike. Perhaps as part of this, I really love the things that I love; when I discover or rediscover something I especially like, I tend to get a little obsessed. This occasionally manifests in incredibly long overanalytical rambles on my LiveJournal, often a lot of incoherent fangirling on my Twitter, usually a change in my signature at my forums (where I keep a "Butterfree's Current Obsession" box in order to spread the love and possibly strike up conversations), and sadly sometimes a lack of updates on this website. You have my apologies if I happen to be neglecting the site as you read this; thankfully, my obsessions always subside after some time and I can get back to being productive.
Some other aspects of my personality are vaguely obsessive-compulsive-ish; I'm a meticulous perfectionist, I have an annoying tendency to spend my time redoing things I've already done but am no longer satisfied with instead of doing something normal people would recognize as productive, I'm easily bothered by inconsistency, and I hate throwing things away. Since they don't severely inhibit me in life, however, I don't actually fit the diagnosis.
I'm relatively introverted; I feel somewhat uncomfortable and don't tend to take social initiative when surrounded by strangers, and parties and the like are not my thing at all, but I love being with people that I know and can get very talkative around my friends. As a kid I played alone most of the time, but today I actually think I would go mad if I couldn't interact with people at all for too long. I also didn't want to ever get married when I was little, and yet now I have a boyfriend I can barely keep my hands off. I think the modern me would horrify my childhood self.
Of course, my childhood self was pretty generally strange. For one, I was a bizarrely morbid child; goodness knows why, but the games that I played were usually very dark and dramatic and heavily involved death, torture, suicide and/or capital punishment (all of which I'm strongly opposed to in real life). One of my longest, most epic ones involved some LEGO guys who stole a magic sword from some dragons, and it went through multiple iterations of the guys killing the dragons, or the dragons killing the guys, or the guys going mad with power and killing each other; then the ones doing the killing would generally either feel remorse and use the magic sword to resurrect the others, or they would commit suicide as they realized how twisted they had become, only for the magic sword to resurrect everyone independently because it secretly had a will of its own. This continued as I started to write fiction - one of those few stories I did manage to finish when I was young spent literally a third of its length on a tangent explaining the fictional society's two types of capital punishment, death and a fate worse than death - and the same morbidity, if slightly less nonsensical, still characterizes most of my later-day stories. I also still have a preference as a consumer towards fiction that involves dark and twisted subjects, though it has shifted somewhat more towards the psychological (I still enjoy characters dying horribly, but it's even better if they first have a mental breakdown).
(I really am happy and positive-minded and optimistic. Honest. Fiction is just a safe, interesting, harmless way to explore dark subjects.)
I suspect some of my morbidity may have originated with The Animals of Farthing Wood, my favorite childhood cartoon, in which a group of woodland creatures set off on a journey towards a wildlife park when their natural home is destroyed and half of them are tragically killed on the way, but that may be confusing cause and effect; I don't properly remember when I started being so morbid.
My own What Pokémon Are You? quiz fairly accurately tells me this: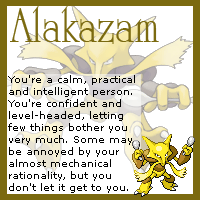 More Random Facts About Me
I am an atheist - that is, I don't believe in God. I never have, and when you don't start from the assumption that God exists, there's no real evidence or reason to actively start to believe in the existence of a deity, let alone the particular deities of any organized religions. When I was in kindergarten I actually made up my own religion (again: I was a strange kid), revolving around a sky king that I'd seen in a dream once who talked to me and sent me messages through people with dogs, and the Christian God was his ruthless and fraudulent enemy, but that was more an elaborate game of pretend than an actual belief.
I am a cat person. I've had a cat (well, my family, technically) since I was eight, and Shadey's family has a Yorkshire terrier, so I've gotten to know some of both sides, but cats are much more my type of animal; they're low-maintenance, relatively quiet, not as hyperactive, and affectionate in a more soft and cuddly way, rather than the loud, needy, overenthusiastic affection of dogs. I still like dogs, mind you (I'm generally an animal lover), and dog intelligence in particular fascinates me, but if I had a choice of one or the other as a pet, I'd go for the cat all the way.
I'm not a fan of babies. They're kind of like dogs except louder, more dependent, not cute, and often actively repulsive. I love kids once they can talk and no longer drool or need diapers, but babies just repel me. Obviously everyone was a baby at some point and I have nothing against people having babies; I just prefer to keep my distance from them.
I wear my watch on my right hand and have done so since I was little. The button on the watch I had then kind of hurt my wrist on my left hand; by moving it to the right hand, the button pointed down my arm instead of up at my wrist, solving that particular problem. This occasionally confuses me when I'm trying to talk about somebody else's left or right when they're wearing a watch, because my brain automatically associates watches with right instead of left.
I'm rather picky about what I let into my mouth. Partly this is because my gag reflex is very sensitive to certain textures and if I eat something with the wrong texture it will do everything it can to get it away; in particular, I'm almost completely unable to swallow pills unless they're very small so that they can be washed down with water mostly without touching my tongue, and fruits and butter have similar effects. Meanwhile, my taste buds are very picky about what kinds of food can be mixed and what kinds absolutely can't. (For example, I do not put any vegetables on hamburgers, because green vegetables do not go with meat, bread, or sauces. Or so my taste buds think.)
I get random nosebleeds. It's kind of on and off - sometimes I don't get any for a while, and then I start getting them almost every day. It runs in the family; my dad and my brother were that way too. Interestingly, Shadey is the same, even though we're not related. Clearly we were destined to be soulmates. (No, I don't believe in destiny or soulmates.)
I don't drink, even though I legally can. At some point when I was a toddler my mom gave me leftover beer by accident because she thought it was apple juice, and I apparently hated it; I like to joke that that's why I've avoided alcohol since. Really, though, I've just never seen the appeal. Shadey also agrees on this (another reason we obviously belong together).
Personal Venues
If, for some reason, you are interested in following my personal thoughts, there are two places to do that:
On my LiveJournal, I post my deranged dreams, musings about things that are happening or that I've read, incredibly long obsession rambles, and occasionally other stuff. It's not updated frequently, but I do still use it if I have something LiveJournal-worthy to get off my chest.
I also have a Twitter, which I tend to use as a dumping ground for whatever is on my mind. This includes incoherent reactions to what's happening in some TV show I'm watching, programming frustrations, links to amusing stuff on the Internet, what I'm doing, or what's going on in my life. Occasionally I talk about something I'm doing for this website, but I warn you that that's not very often.
Please note that because they're personal and not officially connected to this site, they may occasionally contain significantly stronger language than you would find here (outside of Morphic, at any rate), or discuss/link to otherwise not-entirely-kid-friendly content. If you don't think you should see it, don't go there.
Still Here?
Well, that was a lot of silly rambling about myself. Hope I didn't bore you to tears. To make it up to you, have a secret link clue!
Page last modified October 23 2012 at 01:35 GMT