Mascots
The Cave of Dragonflies has four of its own mascot characters, who have never had a name other than their species name (save one) but nonetheless served an important purpose in the history of the site by starring on all the different splash pages back when I had one. This page has a little biography for each of them.
The Story
The splash pages vaguely told a story - mostly the first two, which were animations with dialogue, but to an extent also the later ones. This story is not particularly thought-out or sensible, but here goes a summary of it, anyway:
Charizard (as a Charmeleon), Butterfree (as a Metapod) and a Scyther were, for some reason, friends who travelled together to some extent. One day they were being chased by a hungry, mad Fangcat, which was perhaps not that uncommon, but it was gaining on them very quickly and they would have ended up as that Fangcat's dinner had Scyther not turned to fight it. Meanwhile, Charmeleon (carrying Metapod) ran to the next shelter he found, namely a nearby cave. Fangcat killed Scyther after a bloody battle and then came towards Charmeleon and Metapod in the cave, but bizarrely, the danger gave them the sudden strength to evolve and fend the Fangcat off together. After this they lived in the cave and a large group of bug- and dragon-like Pokémon somehow joined up with them and they all lived together peacefully.
However, one day a human entered the cave. Charizard, standing guard by the entrance, stopped it and called Butterfree for help on what to do, but Butterfree (more of a leader) judged that they might as well show the human the collection of things that they had in the cave as it had already found the hideout.
After this, the location of the cave spread through word of mouth; more and more humans came to the cave, Charizard and Butterfree realized to their frustration that this could not be stopped now, and now they have to live with humans invading the cave en massé to party while they have to camp outside and roast marshmallows on Charizard's tail flame.
Transcript of the dialogue of the first two splash pages
Charizard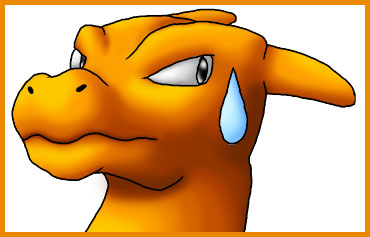 Quick Facts
Gender: Male
Favorite thing to do: Teasing Butterfree
Biography
While initially distrustful towards the invading humans, Charizard has grown to accept them - ironically unlike Butterfree whose stance evolved in quite the opposite direction. Charizard is not as much of a leader as his kind is famous for; he tends to be nervous and insecure, and while he's usually playful and calm and has a great sense of humour, he just can't stand responsibility.
Butterfree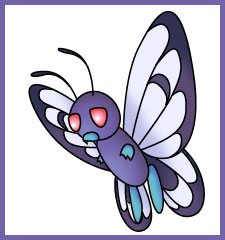 Quick Facts
Gender: Female
Favorite thing to do: Sweatdropping about humans
Biography
Butterfree was initially the one who insisted that the humans were harmless and could as well be let in, but has regretted it ever since. She has simply discovered that while harmless, humans have an extraordinary ability to invade other creatures' living space and be generally annoying. Now she is the most active anti-human of the entire cave, even though secretly she loves attention and is actually a little impressed by all those huge numbers on the hit counter.
Butterfree also once ran off with a Nidoking, but that appears to have ended fairly quietly.
Magikarp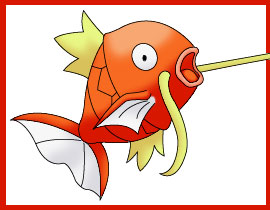 Quick Facts
Gender: Male
Favorite thing to do: Flopping on the ground and staring stupidly into the air
Biography
The cave is full of dragonlike Pokémon, including the Magikarp/Gyarados evolution line. Unfortunately Magikarp is a little dense. After Charizard and Butterfree officially went on leave from the splash page, Magikarp claimed to know all about splashing, only to find out that what they were talking about involved being stuck on a page of a website and having to stay there for a few months. After this incident, he became a favorite for slapping on the splash page when Charizard and Butterfree aren't around, and takes his job very seriously. I think.
Quentin the Dialga Plushie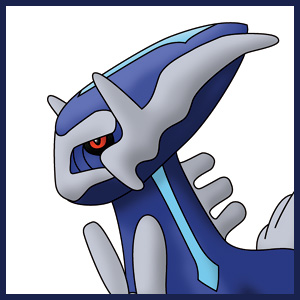 Quick Facts
Gender: Technically genderless, but hey, his name is Quentin
Favorite thing to do: Declaring himself the ruler of time, lord of time, time lord, etc.
Biography
Nobody knows quite where he came from; he just showed up one day, claiming to be a time lord dragon and demanding entry into the Cave of Dragonflies. Nobody has yet had the heart to point out to him that he is a giant plushie and not the real Dialga or that he is not quite as imposing as he thinks he is (though his size makes people disinclined to insult him).
It is unknown if he actually has any of Dialga's powers or what sort of force animated him, and he has shown no intention of flaunting whatever powers he might actually have, so for the moment it remains a mystery.
The Splashes
While the site no longer has a splash page, it used to have one that would generally feature the mascots. At first they were changed whenever I felt like it, but then I started to make new splashes when milestones in front page hits were reached, up until I retired the splash page. I may one day start doing hit milestone celebrations with the mascots again, but that will not be in the form of a splash page, because splash pages are annoying.
The most interesting thing about them may be watching the gradual improvement in my art (excluding the second splash, which consists of resized sprites for God-knows-what reason).
Random fact: All the graphical hit milestone splashes after 300,000 follow a naming pattern of either [number]splash.[extension] or splash[number].[extension]. What's more is that until 3,000,000, they always alternated between the two with each new splash, absolutely unintentionally; each time I make a new splash I forgot which naming scheme I used last, thought it was the other and decided to settle with it, and then forgot it again.
Features Involving the Mascots
A strange mixture of the Clue Game and a text adventure, Magikarp: the Gathering eventually involves the mysterious disappearance of Magikarp and Charizard and Butterfree's efforts to find him.
I hope to one day create some kind of a similar adventure thing revolving around Quentin and his time-traveling abilities, but that doesn't exist yet and is still in the very, very rough planning stages.
Page last modified December 16 2012 at 16:22 GMT